EnduroShield is an easy clean treatment that creates a non – stick shield on the surface.
What does this mean for you?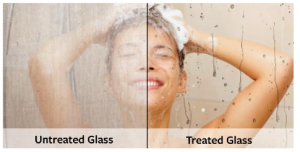 EnduroShield helps cut down on cleaning time by up to 90% and is provided with a 10 year performance warranty* when applied to new glass. The invisible shield is ultra – long lasting and protects against staining, and etching caused by soap scum, body oils, lime scale,
dirt and grime.*
Independently tested and certified for durability to simulate a lifetime of 10 Years on interior and exterior use by TÜV Rheinland, Germany.
See the difference that EnduroShield Makes
How to maintain your treated surface?
EnduroShield treated surfaces can easily be maintained using a damp microfibre cloth, water and a small amount of mild detergent, eliminating the use of harsh toxic chemicals and the need to rinse with water. For areas with harder water, a solution of white vinegar and water (1 part vinegar to 5 parts water) should be used.